Details
Details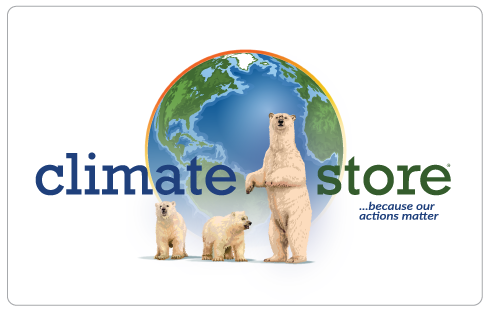 Our gift cards are a great way to get the message out about sustainable - climate friendly - products that are offered by ClimateStore. They can be used on any product purchase in our store and have no limitations on when they can be used, including for all SALES!
Climate Store Gift Cards Are Great for:
Holidays, birthdays and special events!
Family, friends, teachers, colleagues and business associates.
Encouraging people to learn more about sustainable living.
Giving a wide variety of climate friendly, carbon lowering, sustainable products.
Introducing people to the idea that they can take action to mitigate climate change!
What Can They Be Used For?
Gift cards can be redeemed for any products available on climatestore.com.
How Long Are They Good For?
There are no time limitations on when ClimateStore giftcards may be used. They never expire.
How Will The Gift Cards be Sent?
If you purchase this version of the gift card, your recipient will receive an e-mail and a physical gift card will also be mailed to an address you specify during the checkout process. Simply select an amount (above), fill in the "Sender Name", the "Sender's Email" and the "Recipient's Name" and "Recipient's Email" click the "Add to Cart" button, and complete your transaction using the normal Checkout process. When the transaction is complete, the recipient will receive a nicely styled e-mail (see examples above), which will include a Coupon Code, redeemable on climatestore.com for the amount you selected. We will also send a physical gift card to the shipping address you specify during the checkout process. If you wish to receive the card to present as a gift, simply use your address as the shipping address. If you include the recipients address as the shipping address, the physical card will be mailed to them directly.
Are There any Additional Fees or Charges?
No. There are no additional fees, taxes, or shipping/handling charges associated with purchasing and emailing a ClimateStore gift card. The card is fully redeemable for the value you specify with your transaction and can be applied towards purchases at ClimateStore.com at any time in the future.
Have Questions?
You can find our complete Gift Card Policy here.
Feel free to call us on our customer service line at 1-888-320-7806
ClimateStore customer service phone support is available Monday through Friday, 9am - 5pm, ET.
Additional Info
Additional Info
| | |
| --- | --- |
| Customer SKU | CLM-giftcard-combined |
| Weight (lbs) | 0.0100 |
| Country of Manufacture | |
| Brand | ClimateStore |
| Production Icon | No |
| Efficiency Icon | No |
| Disposal Icon | No |
| Renewable Icon | No |
| $ Icon | No |
| Staff Pick Icon | No |
| Gives Back Icon | Gives Back |
| Learn Icon | No |
| Saves Water Icon | No |
| Material | No |
Reviews
You may also be interested in the following product(s)