Umbrella Clothesline - Large Capacity (4-5 loads)
Looking to save money and the planet? This large capacity umbrella clothesline holds a whopping 4 to 5 loads of laundry and up to 4 king size sheets. It has an ultra solid design, comes with 183' feet of useable line space, UV resistance clothesline, rotates in the wind and is fully collapsable and removable. Line spacing and rotating motion allows breezes to pass through the clothing to accelate natural drying. And because it rotates, no need to walk around with your laundry baskey, let the open lines come to you. FREE SHIPPING (U.S.) anywhere in the contiguous 48 states.
Product Story
Air drying your laundry is one of the simplest and most impactful things you can do to reduce your carbon footprint. In fact, according to the New York Times, it's estimated that if all Americans stopped threw out their clothes dryers, we could reduce the country's CO2 emissions by a whopping 3.3%! Not to mention, they actually help build a sense of community, the sight of people hanging laundry connects us to an earlier time when people were connected to their neighborhoods!
This large outdoor umbrella clothesline is the Cadillac of them all. It's solid, heavy duty but manageable. It has real wood arms, a strong locking mechanism and will stand up to heavy use, heavy loads, wind and general wear and tear. It's a little more expensive, but provides the robust features you need for consistent long term use. This is not a cheap import or an import copy.
It's perfect for households running multiple loads of laundry day or throughout the week. Depending on the make and model of your washing machine, it can hold up to 4 to 5 loads, including 4 king size sheets, allowing for iterative washing and drying cycles. Not only will it significantly reduce your carbon footprint, it will also save you money.
It works like an umbrella and comes with a rope tension level and easy to use solid locking mechanism for stability and to prevent line sag for wetter loads or when it's windy.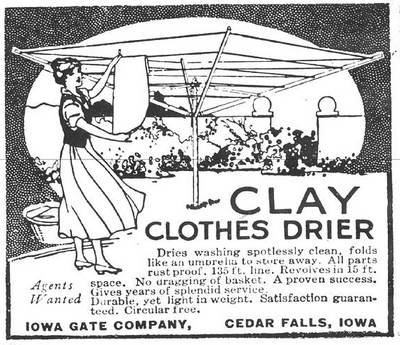 Sunshine Clotheslines has been continuously manufacturing umbrella clotheslines since 1913 right from Parkesburg, Iowa. Founded in 1913, this small family run company has the original patent on the umbrella design and now has 1000's of satisfied customers across the U.S. They have great customer service and are committed to building a rugged, long lasting clothesline. Specifications
Rugged solid design that holds up will in breezes
4 to 5 load capacity
183 feet of linear usable line space
Holds 4 king size sheets on the top ropes
Rotates 360 degrees bring open lines to you, rather than carrying your laundry basket around
3/16 inch diameter polyethylene UV resistant rope
Easy to use tension lever lifts and locks the arms into place
Ability to adjust line tension
Adjustable line height for people of different stature
Arms fold up similar to upside down umbrella
Unit comes assembled in box 6.5x89 inches
Comes with Ground Socket assembly and ground installation instructions - no concrete base required
2 inch diameter heavy (18 gauge) steel center post ensures rigid support
Solid sustainably harvested Radiata Pine arms
Removable from the Ground Socket to allow unrestricted mowing and lawn use
Installation Requirements - PLEASE READ!
This is a great product, but you need to make sure you have enough room in your yard, and digable soil to install the required base.
16 FEET (minimum) of backyard space to fully extend and rotate the umbrella
20 inches of digable (and solid) soil for installation of the Ground Socket assembly
Someone who can dig a 20 inch deep hole for the Ground Socket and assemble the components for initial set-up & installation
Tools: a sharp tipped shovel to dig a hole (for the Ground Socket), a pair of pliers and a Phillips screwdriver
Although not required, a location with partial sun in the spring, summer and fall, will make the drying go faster!
Also, believe it on not, many condominium associations and apartment complexes specifically restrict the use of outdoor clotheslines! You might want to check.
Assembly Instructions
There are three main steps to setting up this Umbrella Clothesline, we estimate it takes about 2-3 hours to complete from start to finish:
STEP (1) Assemble and Install the Ground Socket
STEP (2) Connect the lower post to the upper post
STEP (3) Raise and lock the arms of your Sunshine clothesline to use

Installation and Assembly Instructions - all models
Tools required: shovel or auger to dig hole for Ground Socket, a pair of pliers and screwdriver
STEP 1) Assembly of Ground Socket
After finding a suitable, preferably sunny location in your yard, use and Auger of shovel to dig a hole in the ground 6" deeper than the length of the Ground Socket. Place gravel or small stones in the bottom of the hole, this allows for proper drainage. Dig out the top of the hole large enough to accommodate the Wings of the Ground Socket as shown in the picture to the right. After making sure the Ground Socket assembly is plumb and the top of it is flush with the ground, pack or tamp the dirt back in the hole and around the Ground socket firmly. A black post cap is provided to keep out the debris when not using the unit.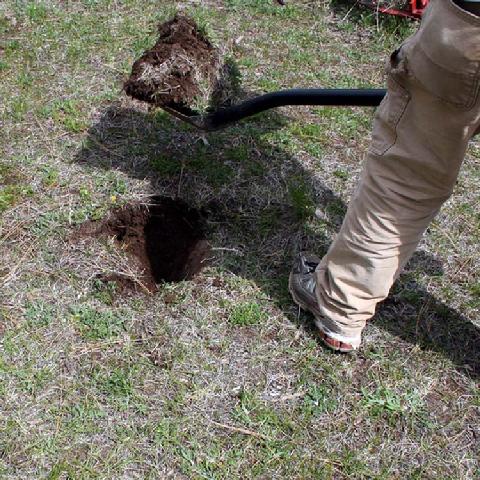 To assemble the ground socket, position the two wings on the PVC tube with the 4 special bolts and wing-nuts to secure the Wings around the Ground Socket. The top of the Wings should be about 4 inches from the top of the Ground Socket.
CAUTION! Do not over tighten the 1/4" wing-nuts as could in-dent the PVC Socket making it impossible to get your Sunshine Clothesline into Socket after assembly.
.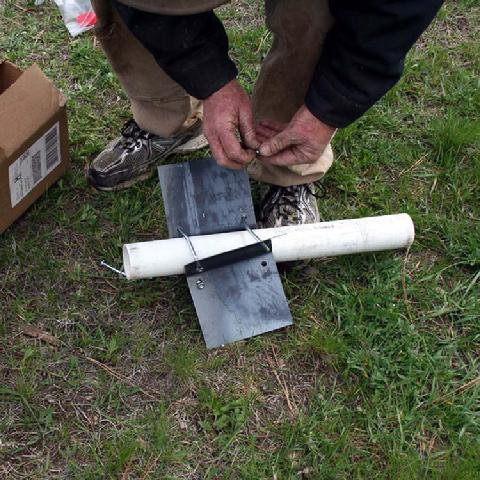 With the hole dug and the assembly ready, place the assembly in the hole and backfill completely with soil. Use another pole or broom handle to make sure the socket is a verticle as possible. Firmly tamp down the sole to make suer there is a good fit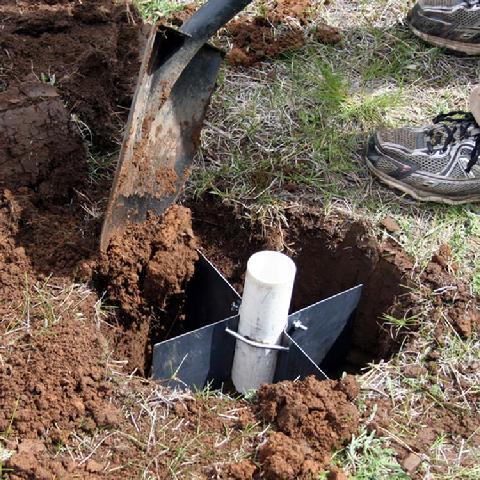 STEP 2) Connecting the Ground Socket to the lower post
This is only required for the 13 and 14ft units and is done by inserting the Lower Center Post's smaller diameter into the lower end of the Upper Center Post, aligning the holes in each and then putting the Lock Pin through the hole, be sure to lock the pin with the safety keeper.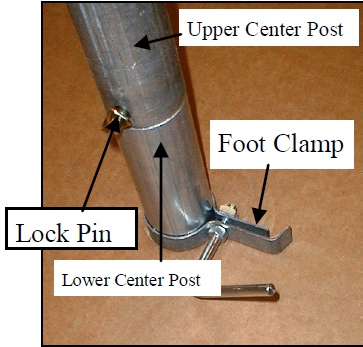 STEP 3) Raising the clothesline arms
Insert the assembled clothesline into the Ground Socket, leaving a minimum of 8" of Center Post in the Ground Socket. Rotate the clothesline until the Latch Bracket faces you. While raising the Arms always look for rope tangles which might interfere with fully raising. Place your foot on the Foot Clamp holding it to the ground grasp two opposing Arms lift and spread them out as wide as possible. Grasp them again this time, lower and raise them as high as easily possible. In order to be in good position to raise the Arms completely, duck under several rows of rope. With the Lock Lever pointing up, raise the Arms until you can connect the Lever Bolt to the lowest slot in the Latch Bracket. Grasp the end of the Lever and pull it down until the over center motion locks the Arms in place, again be sure ropes are not tangled or wrapped around end of the Arms.
Have a question during the assembly process? You can call the manufacturer directly at 1-800-998-2423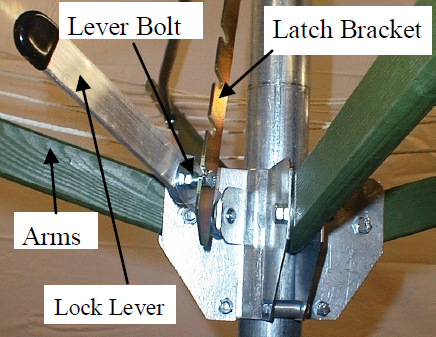 Efficiency Icon
There is no better way to reduce the carbon impact of your laundry than air drying rather than by machine. Both electric and gas machine clothesline dryers are VERY energy and hence carbon intensive.
For average family, air drying your clothes can reduce your carbon footprint by a whopping 2,400 lbs (CO2eq) per year! This can be as much as 10% of your annual footprint!
Money Saver
Depending on how many loads you do per year, this dryer could save to $0.30 - $0.50 per load in electricity and/or gas bills. With the possibility of hundreds of loads, that adds up over the course of a year. Staff Pick
We picked this because of its exceptional capacity and solid design. This is well designed large capacity US made umbrella clothesline. No only does it take a huge chunk out of your carbon footprint, it brings one outside into the sun and breeze. There are some activities in life that are just relaxing and mindfully handing laundry out to dry and gathering it in with family is one of them!
More Information

| | |
| --- | --- |
| Customer SKU | CLM-SC-0001 |
| Weight | 32.0000 |
| Country of Manufacture | United States |
| Brand | Sunshine Clothesline |
| Efficiency Icon | Energy Efficient! |
| $ Icon | Money Saver! |
| Staff Pick Icon | Staff Pick |
We found other products you might like!