Merchandise And Gift Card Policy
This policy sets out ClimateStore Inc's (the owner of climatestore.com), general merchandise and gift card policy.
Gift Card Policy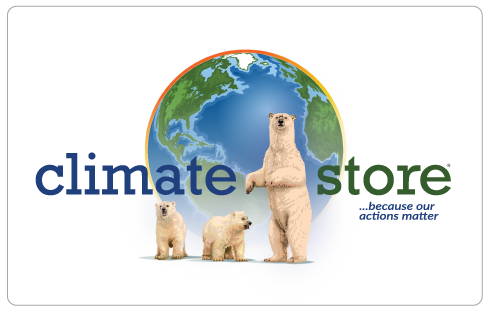 Gift cards are good toward purchase of hundreds of sustainable products and services at climatestore.com. There is no expiration date or additional fees or charges.
The card is fully redeemable for the value paid by the sender and associated with the card coupon code. Card coupon value will be decremented with each use by the recipient at the time purchases are processed. The transaction total, including shipping and taxes, will be decremented by the value of the coupon.
The coupon value of the card may not be redeemed for cash or check or credit unless required by law.
ClimateStore is not responsible for lost or stolen cards. In the event that your card is stolen, any unredeemed value may be reissued in the form of a new gift card coupon code by contacting customer service .
Cards may not be resold by unauthorized vendors. Unauthorized resale is grounds for cancellation.
In the event that the full credit value of the card is not redeemed at the time of a transaction, any additional balance will remain associated with the coupon code, which can be applied to an additional transaction on the climatestore website.
If a gift card recipient redeems a card coupon and then chooses to return the products in accordance with climatestore's return policy the value of the return will be restored to the gift card coupon code for use on future purchases by the recipient. Unless required by law, cards may not be redeemed for cash as part of returns processing.
The remaining value of coupon codes can be determined by entering them in the coupon fields in either the Cart or Check-Out pages, during the check-out process.
Use of card constitutes acceptance of these terms. Still have questions? Please feel free to contact customer service or call us at 774-469-0357.
Updates to This Policy
Please note ClimateStore Inc. reserves the right to change this policy from time to time by updating this page, and the effective version of the Policy will be the latest available on the site. You should check this page from time to time to ensure that you are happy with any changes as any use of the site will constitute acceptance of the policy and any changes. If you have any questions please feel free to e-mail us at customerservice@climatestore.com or give us a call at 774-469-0357.
Thanks for taking action to mitigate Climate Change!